Going On a Road Trip With Your Dog? These Tips Will Help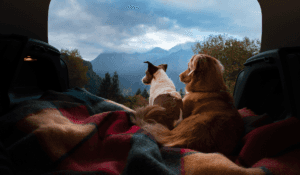 When planning your next big road trip, you might be thinking of bringing your best friend- your dog. The idea of bringing your dog on a long car ride might seem daunting, but taking the appropriate steps can make it an enjoyable trip for you and, of course, your dog. So, if you and your dog are hitting the road anytime soon, follow these tips to make it a great trip.
Make Sure Your Route Has Dog-Friendly Stops
When taking your dog for long-distance drives, it's important to make stops so he can go to the bathroom and walk around, which can be hard to do safely if the majority of your route is only on the freeway. Plan a route that includes plenty of places to pull over, such as a rest stop.
Keep Your Dog (and Car) Safe
If your dog is traveling in the back seat, the safest way he can travel is in a dog sling or a hammock. Both your dog and your car will thank you because there are great benefits to this including:
Your dog will be safe and comfortable for the trip 

The car's upholstery will be safe from fur and claw marks

Your dog won't be chewing the armrest

Helps keep your eyes on the road, instead of constantly checking the back seat
For Nervous Dogs, Make Practice Trips
Some dogs may be anxious during car rides, especially if the most common place he goes is to the vet. So before embarking on a very long road trip, take a few practice rides first and make sure they end in a positive experience for him, such as the dog park or the pet store.
Get Your Dog Tired Right Before Leaving
You know the saying: "a tired dog is a happy dog". Before you leave, take your dog for a long run or to the dog park so they can rest during the car ride. It's also a good idea to bring a chew toy to keep your dog busy later in the trip.
When taking the necessary steps, bringing your dog on a road trip can be a great experience, for both you and your dog. If you have questions on how to prepare your car for a trip with your dog, call Executive Dodge Jeep RAM at 203-774-4253.